Welcome to Waggin Smiles

Waggin Smiles is for pet owners of both dogs and cats who do not want their pets put under general anesthesia for teeth cleaning. Absolutely NO anesthesia is used before or during our pet dental cleaning procedure.
Our goal is to provide the highest quality alternative in dental cleaning for your pet's teeth. Our customer satisfaction, combined with referrals from veterinarians outside our practice, provide you with the assurance that Waggin Smiles does indeed provide a superior service to you and your pet in the Northern California San Francisco Bay area.
In compliance with California state law: We work under the supervision of a licensed veterinarian.
Your pet will first be examined by a licensed veterinarian at the beginning of your pet's scheduled dental cleaning appointment. Our hygienist will then place your pet comfortably in their lap or between their legs to start the cleaning process. Our hygienists are specifically trained in the handling of pets and are able to keep them calm through the entire cleaning procedure. Your pet will be constantly praised, reassured, and handled with utmost care. Due to our expertise in the handling and care of dogs and cats, only a small percentage of pets cannot be treated by our non-anesthetic teeth cleaning methods. We find that most pets cooperate perfectly while undergoing our procedure.
We commonly recommend dental cleanings at 6 to 12 months intervals. Our recommendations for dental cleanings are based on the level of gingivitis, tartar, and plaque build-up.
We have seen an increase in pet owner's awareness of dental disease and how important it is to them to maintain a preventative care plan to help protect their pet's teeth and gums. Our website contains valuable information for you as a pet owner. Many of the most commonly asked questions will be answered for you here at Facts and Questions page.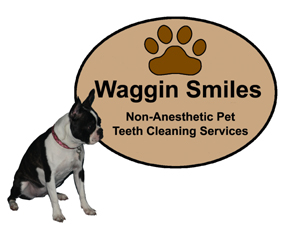 PLEASE HELP KEEP OUR COST DOWN.
Animal Wellness Magazine recently posted an article on the benefits of anesthesia free dental cleaning. It's worth reading. http://www.animalwellnessmagazine.com/articles/anesthesia-free-dentistry/

Waggin Smiles, Inc.
Servicing the Northern California San Francisco Bay Area
www.wagginsmiles.com
Email: info@wagginsmiles.com
Office: 707-637-0841
Mobile: 707-360-5493
Fax: 888-274-2052